About the Arcturus Observatory

The Arcturus Observatory (IAU Observatory Code: H92)
is an astronomical observatory
located in the Pine Barrens of Whiting, New Jersey USA
Most astronomy performed is by CCD Imaging and Astrophotography.
Owned and operated by Paul Gitto, D.D.S.
All images currently on this web page, are taken with the Meade Pictor 416XT CCD camera.
Images are copyright of the Arcturus Observatory, and are for personal use only.
Our observatory is a "Pro Dome 10".
A 10' diameter fiberglass dome 8' high.
It was fabricated by Technical Innovations
Our observatory contained a 10" Meade LX200 f/10,
and as of 2002 now contains a 12" Meade LX200 f/10,
and now uses a Meade Pictor 416XTE CCD camera.
Usually the telescope works at F/3.3,
when an Optec MAXfield .33 focal reducer is added.
The telescope and camera are computer controlled into our home.
The dome is yet to be remote controlled or motorized.
---
Available
More Small Astronomical Observatories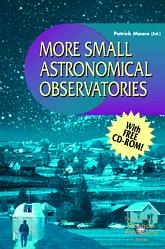 A Patrick Moore's Practical Astronomy Series book.
The Arcturus Observatory has a chapter featured in this book.
Plenty of photos, details and hints on designing your observatory.
This book conatins a CD-ROM version of the book Small Astronomical Observatories, which is now out of print.
It's like getting 2 books in one!


If you shop Amazon.com please use this link.
All our proceeds support this web site and our Near Earth Objects research program.

---

Take me back to
Sitemap
What's New
Table of Contents
Check out -- The Messier Image Map
FTP Access--Shareware programs


Let me know what you think.

Contact Paul Gitto - My E-mail address is Photos at Cometman dot com